About Brass City Trophy & Gifts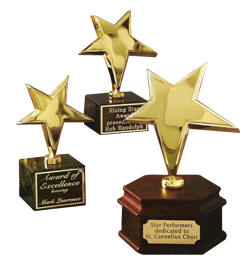 Brass City Trophy & Gifts specializes in both corporate and traditional gifts, from trophies and awards to pens, clocks, handbags, crystal, jewelry and more. We have over 45 years of experience in traditional and contemporary engraving, using state-of-the-art technology to create elegant and remarkable engraved pieces in almost any type of material.

But more than just engraving and awards, we are your local gift store, carrying the latest line of handbags, Belleek Irish crystal, Bulova clocks, and more. Elegant gifts that meet every occassion.

And we're right next door! Come visit our showroom at 471 Main Street, Oakville, Connecticut. We can't wait to meet you.


Specialty Services
We provide custom glass etching and custom etched crystal, as well as jewelry and ring engraving (except for crystal) which are done on premises. Come talk to us about what your needs are.
Gifts & More
Cross Pens
, Harbour Lights, UConn, Boyds Bears, Galway Irish Crystal, Handbags, Belleek Parian China, Williraye Studio, Barlow Designs,
Bulova Clocks
, Gardening Gifts, Nautical Gifts, Reed & Barton, Jewelry Chests, Steinbach Nutcrackers, Wind chimes, and much more.
Trophies & Awards
Custom Engraved Crystal, Flag & Medal Cases, Name Badges & Signage, Ribbons (Stock & Custom), Desk Accessories, Cast Metal Plaques, Gavels, Bulova Clocks.